CONTEMPORARY BRITISH AND IRISH ARTISTS
Given below are some designers and engravers who are willing to accept commissions for bookplates and book labels. The character of their finished work will depend greatly on the technique used, principally etching of copper, engraving on copper and wood or other materials, line drawing, and typographic. The images here are not in high resolution, and for each artist we show only a few, just to give some flavour of each artist's style. We have not attempted to list here the great number of European and other ex-libris artists and designers, amongst whom are many skilled exponents of a range of other interesting techniques, including printing in multiple colours and computer-aided design. If you are seeking to have a heraldic bookplate made, visit also the website of The Society of Heraldic Arts and click on the Artists tab.

The Society frequently receives requests for details of artists willing to design bookplates, and we are in great need of additions to this listing, which is confined to bookplate designers living in the United Kingdom and Republic of Ireland. If you are a designer who wishes to be included, please complete and send in this page Details of Artist with a couple of current examples of your bookplate work. We would also like to hear from anyone who knows of currently active bookplate designers not yet listed here.
See our Resources page if, rather than a unique bookplate design, you are seeking details of suppliers who offer a choice of pre-printed designs which can be personalised with your name.
ROSALIND BLISS
Obtained her Diploma of Art at Edinburgh College of Art in mural painting, but she now specialises in wood-engraving and will undertake anything that is interesting and tasteful, including heraldic bookplates.
Address: Hillside Cottage, Windley, near Belper, Derbyshire DE56 2LP
Telephone: 01773 550278


| | | |
| --- | --- | --- |
| by Rosalind Bliss | by Simon Brett | by Sebastian Carter |
SIMON BRETT (b.1943)
Learned wood-engraving from Clifford Webb at Saint Martin's School of Art, London, 1960-64. Illustrator of many books for Folio Society, private presses etc. Former Chairman of The Society of Wood Engravers. Writer and compiler of books and articles on wood-engraving. Exhibits regularly with that Society. His last solo exhibition was at Peter's Barn Gallery, Sussex, in 2000. Simon Brett has made over 100 bookplates, mostly as personalised commissions. Brian North Lee's monograph on them was published in 1989 by the Fleece Press. He tells us that "any and all commissions will be considered. I enjoy the collaboration with sympathetic clients."
Address: 12 Blowhorn Street, Marlborough, Wilts. SN8 1BT
Telephone: 01672 512905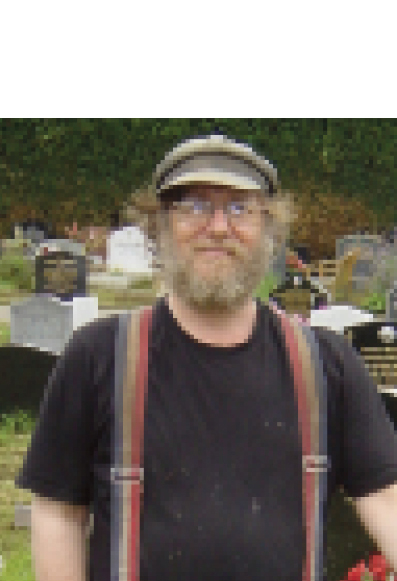 MARK BURY (b.1951)
As an apprentice with, and for eight years working alongside, sculptor and letter cutter David Kindersley (a pupil of Eric Gill), Mark has specialised in lettering and heraldic work. He now follows the same tradition, primarily in stone, glass, and wood. Bookplate designs are line drawn in black ink, then reduced for printing, which may be in a colour chosen by the client. In The Bookplate Journal for Spring 2017 is a feature article with examples of his bookplates and a checklist.
Address: 53 Longstanton Road, Oakington, Cambridge CB24 3AB
Telephone: 01223 232401 Email: markATburys.me.uk but for AT put @
Website: Mark Bury's website


Calligraphic labels by Mark Bury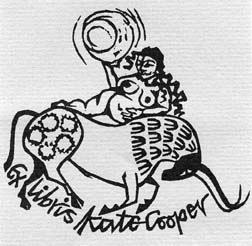 EILEEN M CLARKE (b.1941)
Trained at the School of Art and School of Printing, Colchester, she works in linocut and will undertake all styles of bookplate. Examples of her work appears in the 1999 volume of the Bio-Bibliographical Encyclopaedia of the Art of the Contemporary Ex-Libris.
Address: 33 Cardigan Street, Ipswich IP1 3PF
Telephone: 01473 259543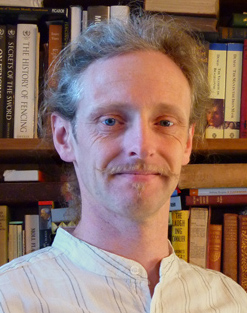 GORDON COLLETT (b.1965)
An established artist specialising in trompe l'œil murals, a painter of portraits and an illustrator. The latter vocation has included much pen and ink work, such as his line-drawn bookplates. For a full portfolio please visit his website. Address: 7 Victoria Road, Eton Wick, Berkshire SL4 6LY
Mobile: 07977 409834
Email: infoATmuralartist.co.uk but replace AT by the @ symbol
Website: See his Homepage.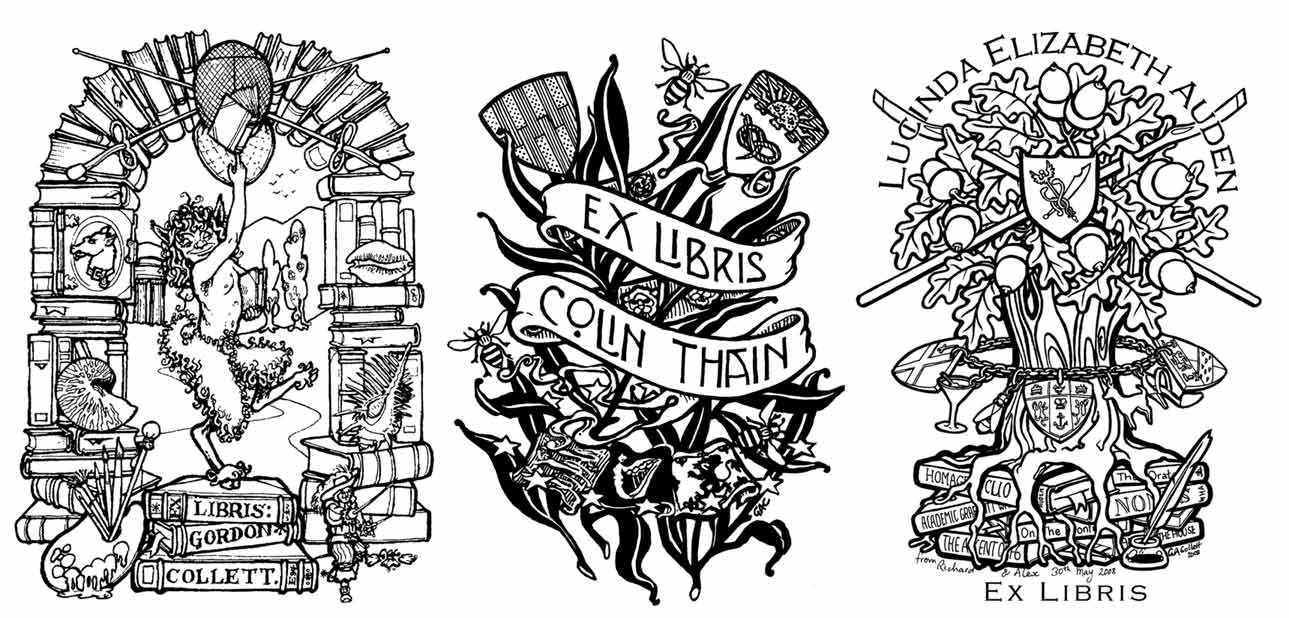 by Gordon Collett
ROY COONEY (1935-2018)
With great regret we record that Roy died on 14 April 2018 at the age of 82.
See Full Set of Images and Checklist and Article on Roy Cooney
DANIEL DENNISON (b.1980)
A young wood-engraver who recently completed a graduate course in fine art and history. He has exhibited at his degree show and at Market House Galleries, Marazion, Cornwall. The illustration entitled Men-an-Tol, Series 3 (not a bookplate) indicates a leaning towards landscape subjects, but any will be considered.
Address: 8 Millpond Avenue, Hayle, Cornwall TR27 4HX
Telephone/Fax: 01736 752873 Email: ddd9ATaber.ac.uk but replace AT by the symbol Image coming shortly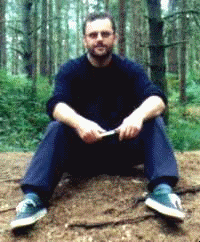 ANDY ENGLISH (b.1956)
Andy English was born in Norfolk and still lives in the Fens, though he has moved over the border to Cambridgeshire, where he teaches. Although mainly self taught as an engraver, Andy has studied with Sarah Van Niekirk. Printmaking now dominates his artistic output. He is a member of the Society of Wood Engravers, the Cambridge Drawing Society and the North American Wood Engravers Network. He has exhibited extensively in the UK and also in the USA. Apart from independent prints, Andy's output includes bookplates and illustrations. Engravings in books have been published in: "Here We Are", " Global Engravers ", "Modern British Bookplates", and the new edition of "Engraved Gardens". Email: andyenglishATbtinternet.com but replace AT by the symbol
Website: See Andy English, bookplate designer
Bookplate image coming shortly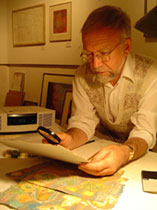 PETER FORD RE RWA (b.1937)
Senior Fellow of the Royal Society of Painter-Printmakers and Academician of the Royal West of England Academy, Bristol, he has held many exhibitions in the UK and internationally. Prizes and commendations for bookplate designs from Metz, France, Belgrade, World of Exlibris (1995). His bookplates are occasional works in response to commissions or to interesting exhibition opportunities, but his main activities are as a gallery director, printmaker and papermaker. He writes: "My usual technique is etching and aquatint though I have used relief print processes such as linocut and rubber stamp printing. As mentioned in articles by me and about me as a bookplate designer I have been active as a participant in exhibitions and events outside the UK. I attended the FISAE congresses in Beijing and Istanbul and also the International Small Prints and Ex Libris Biennale in Guangzhou in 2010, 2012 and 2014. Last year I had a solo exhibition in Dongguan Art Museum (near Guangzhou) and this included 22 of my bookplates which were subsequently purchased by the museum. In late May 2016 I shall be attending the opening of an exhibition of my works on paper including bookplates in Dalian, north east China."
More details here and at website below.
Address: Off-Centre Gallery, 13 Cotswold Road, Windmill Hill, Bristol BS3 4NX
Telephone: 0117 239 6784
Email: peterafordATtiscali.co.uk but for AT put @
Website: www.peterford.org.uk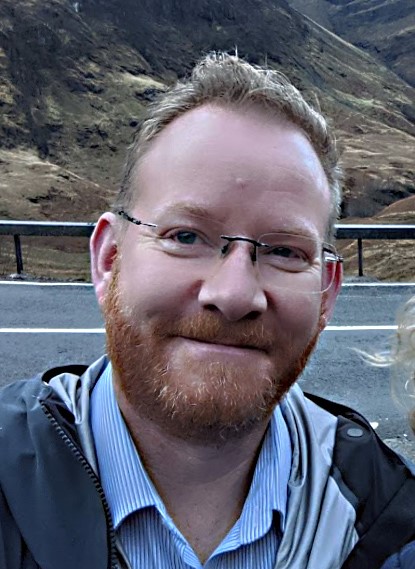 KEVIN GREIG (b.1967)
Works in pen &ink and digital heraldry. Kevin is a qualified graphic designer from Aberdeen and has worked as a designer and illustrator in brand identity and packaging as well as historical illustrations and heraldry. He loves intaglio linework and the bold design and colours found in woodcuts and screen printing. With an interest in cultural heritage, history, and archaeology he is a Fellow of the Society of Antiquaries of Scotland and a committee member of the Royal Celtic Society. He specialises in digital colour heraldic ex-libris as well as monochrome pen and ink bookplates. The tools he uses for creating his linework bookplates are Japanese fude pens, fountain pens and liquid flare fineliners on Daler Rowney graphic series layout paper. The technologies of paper stock, edging and embossing are, to him, all part of the design process in creating a bookplate.
Address: 11 Dundas Crescent, Eskbank, Dalkeith EH22 3ES
Mobile: 07800 769147
Email: kevinATheraldry.scot but replace AT by the @ symbol
Website: See his Flickr page for lots more images.


by Kevin Greig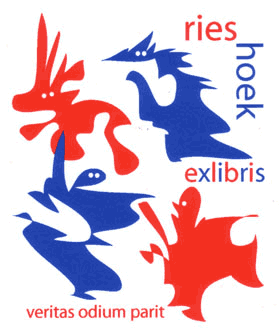 RIES HOEK
Living and working (as a graphic designer with RTÉ) in Ireland since 1958, Ries Hoek has had exhibitions in Holland and Ireland..
Address: 173 Meadow Grove, Dundrum, Dublin 16, Ireland
Telephone: + 353 1 2982536
Email: rieshoekATeircom.net but replace AT by the symbol






ANNE JOPE
Now a freelance illustrator, she likes to undertake such bookplate work (wood-engravings, linocuts and woodcuts) as she considers "interesting or a bit unusual, but definitely not heraldry". At the Central School of Art her BA(Hons) in painting was followed by special advanced studies in printmaking. Fellow of the Royal Society of Painter-Printmakers (RE), Member of the Society of Wood Engravers (SWE), and Member of the Association of Illustrators (AOI). Has exhibited widely in UK and abroad in one-man and group exhibitions, including the Royal Academy, New Ashgate Gallery, Art-in-Action, and St. David's Hall Cardiff.
Address: 14 Millwood End, Long Hanborough, Witney, Oxon OX29 8BX
Telephone: 01993 883865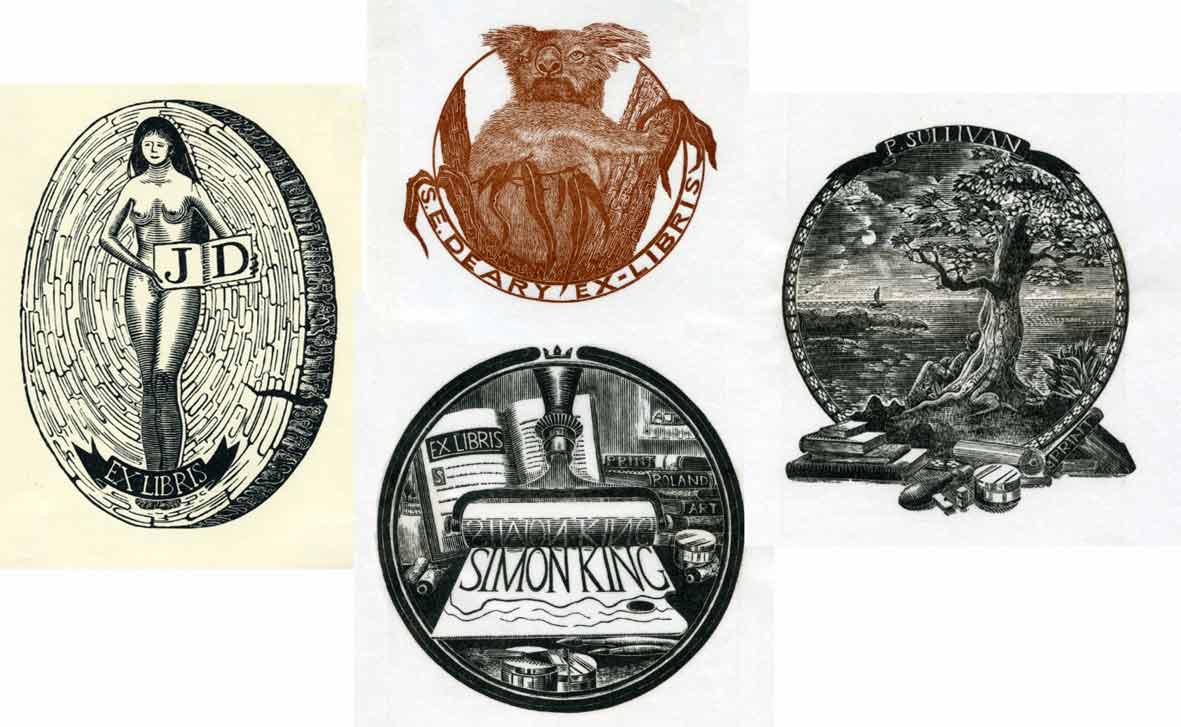 JOHN KAY
Chiefly a painter in watercolour, he is open to undertaking bookplates that are wood-engraved, line drawn or computer-generated. His web- site displays his paintings and a number of exlibris created digitally.
Address: 22 Hall Road, Fordham, Colchester CO6 3NQ
Telephone: 01206 240929 Fax: 0870 164 0649
Email: webmasterATbookplate.demon.co.uk but replace AT by @
Blog: http://jayarkay.blogspot.com
Website: www.bookplate.demon.co.uk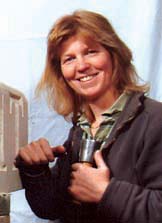 LIDA CARDOZO KINDERSLEY (b.1954)
Having first studied at the Royal Academy 1972-76, Lida Cardozo thereafter trained in the workshop, and now carries on the work, of her late husband, David Kindersley (1915-1995; he trained under Gilbert Ledward RA, was then apprenticed to Eric Gill and is well known for his letter-cutting and design) . She also undertakes lettered and heraldic bookplates, which are line drawings, reproduced photographically. For more information see her website.
Address: 152 Victoria Road, Cambridge CB4 3D2
Telephone: 01223 362170
Website: See Cardozo Kindersley Workshop
| | |
| --- | --- |
| | Both by Lida Cardozo Kindersley |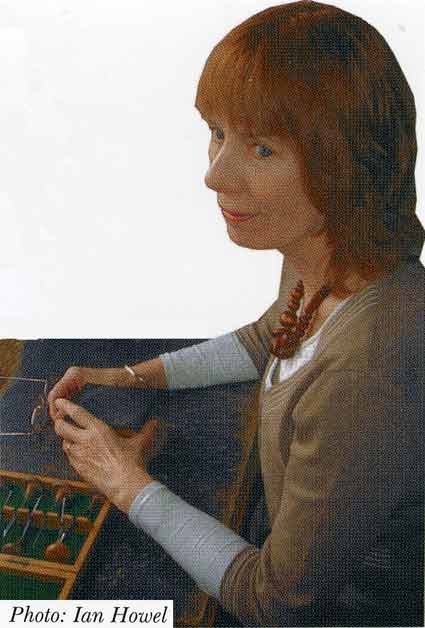 ANGELA LEMAIRE (b.1944)
Educated at Chelsea and Camberwell Art Schools, self-taught as a wood engraver, and now living and working in the Scottish Borders, she is an illustrator, printmaker, painter and writer who has exhibited widely. Her graphic work, prints, drawings, and books can be found in both private and public collections in the UK and abroad, notably at the National Library of Scotland. She has given many illustrated talks on her work. Her bookplates are covered in a six-page article and checklist by the late Brian North Lee in Contemporary International Ex-Libris Artists, Portugal, 2005.
Address: The Studio, Friarsgate, Jedburgh, Roxburghshire TD8 6BN, Scotland
Telephone: 01835 863142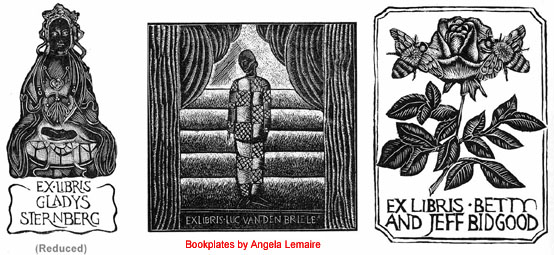 LIBANUS PRESS
Designs typographic bookplates, and prints wood-engravings, line drawings and typographic plates. Established in the 1970s by Michael Mitchell (1939-2017), the publishing business is now continued by Susan Wightman.
Address: Rose Tree House, Silverless Street, Marlborough, Wilts. SN8 1TQ
Telephone: 01672 515378 Email: infoATlibanuspress.co.uk but replace AT by @



SARAH ROGERS (b.1960)
Etcher and exhibitor at the 2016 and earlier Royal Academy Summer Exhibitions. Graduate of Goldsmiths College, University of London, recipient of awards, and her work has been the subject of a number of exhibitions. Etching is her principal medium, using a combination of traditional intaglio, hard ground and aquatint combined with photopolymer etching.She has yet to undertake bookplate commissions, so the images below are examples of recent pictorial work and will, we hope, in due course be replaced by exlibris for others.
Address: Knockarigg Cottage, Knockarigg, Grangecon, County Wicklow W91 Y191, Ireland.
Telephone: + 00 353(0)87 206 6203/ +44 (0)795 1612531
Email: sarahedb7ATgmail.com but replace AT by @
Website: http://etchingsite.wordpress.com
GRAHAM RUST (b.1942)
Mural painter and water-colourist. He has held 28 one-man exhibitions. His illustrations for children's and pattern books may be found on the Amazon website. His bookplates are line drawings in ink and wash.
Address: The Old Rectory, Somerton, Suffolk IP29 4ND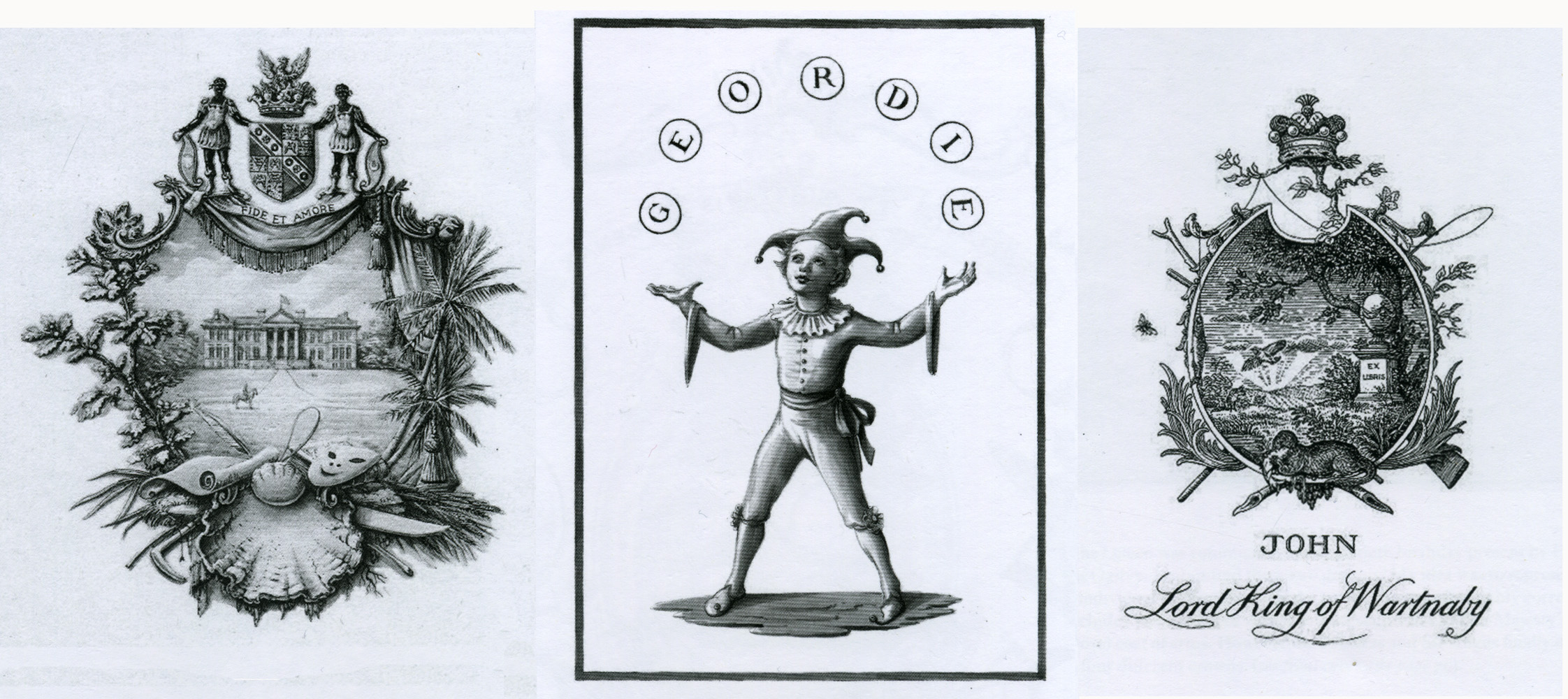 Website: http://grahamrust-murals.com
CLARE STREET
Studied at Sir John Cass School of Art under Freddie Fryer, to become a designer, jeweller and engraver on both copper and steel, specialising in seals and dies of all kinds. Her bookplates are, as yet, few in number, and have been either engraved or line drawn. She recommends engraving on steel where either a finer style is required, or more than 1,000 prints needed. Clare Street is a member of the Society of Designer Craftsmen and of the Society of Heraldic Arts, as well as being a Freeman of the Goldsmiths' Company. She has exhibited widely (from the Design Centre, London 1971 to Minneapolis, USA 1978; for 18 years from 1983 at the Goldsmiths Fair, also The Goldsmiths' Company exhibition in celebration of the Queen's Jubilee, 2002).
Address: c/o The Bookplate Society, 32 Belitha Villas, London N1 1PD
Email: clare-streetATsouthserv.com but for AT put @ Websites: www.whoswhoingoldandsilver.com ; www.craftEart.com ; www.societyofdesignercraftsmen.org.uk ;