This part of our site is primarily for the benefit of members and may one day become a password-protected area. We considered making the Directory of Members available online, so that it would be up to date, but many members do not have access to the internet.
A Members Handbook dated January 2016 was sent to members with our Autumn 2015 journal.

MEMBERS AUCTIONS
Our next auction will take place on 5 December 2020 and will include a large batch of Golden Age bookplates from the USA.
This members auction below concluded on Saturday, 3 October 2020.
Members participating were asked to enter bids by 2pm BST on that day.
During the next four hours bids could be increased. Bidding was possible on some extra lots if most bidding had been done before 2pm BST. The auction closed at 7pm BST (extended by one hour because of late bids arriving).

Bids were by email. The bidding tables below were repeatedly updated as quickly as practicable.
TABLE 1 - LOTS 1-213 .
TABLE 2 - LOTS 214-400 .
These tables NOW SHOW THE CLOSE OF BIDDING (E&OE).

Each bidder was assigned a bidder pseudonym so participants could follow bidding status online.
Standard bid increments applied, as in the Auction Rules.
For the first 213 lots the start price was the reserve, namely 75% (rounded up to nearest pound) of the pre-sale estimate. For lots in the second half a minimum price had been set, as shown in Table 2 above.
Post-auction you may now express interest in any unsold lots Click here .

Here is the October 2020 Auction List (PDF).

Click on these links to view the images:
Lots 1-16 Lots 17-28 Lots 29-38 Lots 39-49 Lots 50-57
Lots 58-62 Lots 63-68 Lots 69-74 Lots 75-84 Lots 85-92
Lots 93-96 Lots 97-105 Lots 106-114 Lots 115-126 Lots 127-140
Lots 141-145 Lots 146-150 Lots 151-155 Lots 156-159 Lots 160-164
Lots 165-173 Lots 174-178 Lots 179-188 Lots 189-202 Lots 203-213
Lots 214-244 Lots 245-278 Lots 279-306 Lots 307-323 Lots 324-359
Lots 360-378 Lots 379-400

Our Auctions Secretary is Peter McGowan, to whom all auction correspondence should please be sent (address on Contacts page).
DESIDERATA
We have opened a webpage giving a list of Wants by members. To get to this, go to the URL box at the top of this page and type Desiderata.htm in place of membersarea.htm
THE JOHN SIMPSON COLLECTION
A former member who died tragically in 2004, John Simpson was an assiduous collector not only of books on fishing but also of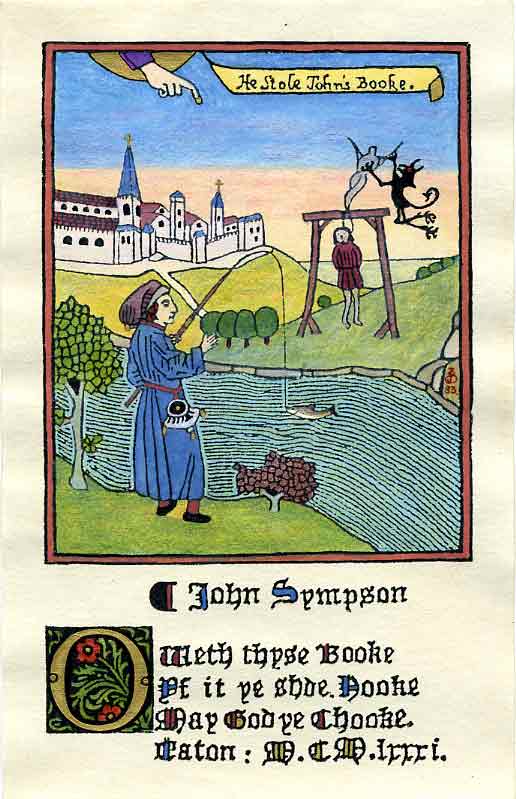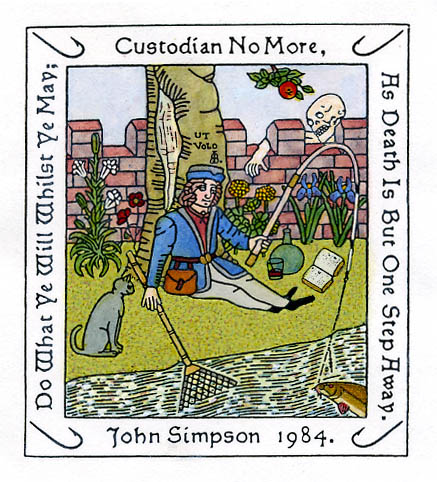 early bookplates, especially typographic labels, Early Armorials and Jacobean style bookplates. Results of the auction at Bonhams, New Bond Street on 17 May 2005 are at www.bonhams.com and were included in the Society's June newsletter. Some 23,000 bookplates sold for £63,000. An offprint of the catalogue was circulated to members, and further copies are available for purchase by non-members Click here. John Simpson produced these two bookplates for himself, and they are discussed in our Autumn 2012 journal. The Society has possibly a few prints still available, at £6 each (post free to UK).