International Exlibris Congress 2020

The Bookplate Society is pleased to host the 2020 FISAE congress in London.

Study the other other webpages, go to the online registration form and send payment of your accommodation and full congress fee by 31 July 2019.


Registrations for the Prague congress were unacceptably late. Participants were most fortunate that the Pyramida Hotel kept bedrooms and meeting space available. For 2020 we have already suffered the bad experience of losing our booking of Churchill College, Cambridge, because the college required deposits and a guarantee that all rooms booked would be paid for. Early bookings, with payment, are now the only way to convince our London hotel to reserve bedrooms and the congress hall. So do not place the 2020 congress at risk of cancellation but get working now to fix your plans to come to London.



The logo shown above is a simplified version of the columns and pediment of the British Museum. It is a fitting symbol for the 2020 congress in the Bloomsbury area of Central London. If you wish to design and offer a second, alternative logo, please write to the congress organisers with your ideas.


Royal National Hotel
Information about the hotel will be found at the Imperial Hotels Group website.

Congress Reception Desk and Information Pack
We aim to have our reception desk open from 8am to 7pm. Check in here when you arrive (north side of the Royal National Hotel courtyard) and collect your badge and Information Pack.
This Information Pack will include maps, vouchers, List of Participants, congress information, etc etc. The congress reception desk is there to help with any questions about the congress, about getting around London, and about your visits.
If you are bringing material for the Gift Bag, please hand this over as soon as you arrive. For issues relating to rooms, talk with hotel staff at the main desk.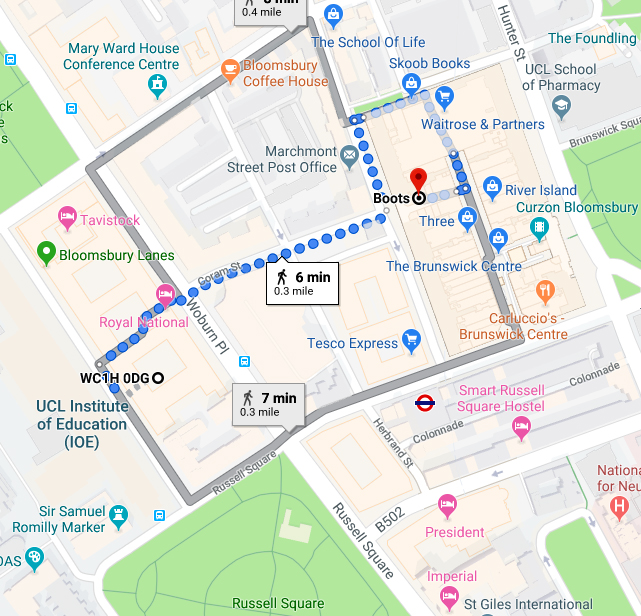 Local Map
Click on the image to view a local map showing how to get to the nearest pharmacy, post office and other nearby businesses.

Gift Bag
There is a long-established and very welcome congress custom that member societies of FISAE contribute printed materials for distribution to participants. We need time to prepare these Gift Bags, which should become available at the congress reception desk for collection after 1pm on Thursday, 13 August 2020.

Congress Photographers
Robert Littlewood and his daughter Caitlin have most kindly offered to be our congress photographers. The Information Pack will include details of what they will be doing, and how images can be made available.

Insurances and Health Cover
Obtain travel insurance before you leave home. This should include health cover. If coming from a country in the European Union, let us hope that (whatever the outcome of Brexit) the present reciprocal health cover remains in place. The hotel has public liability insurance in respect of accidents if it is at fault. The congress organisers will investigate whether additional insurance cover is possible.

Medical Assistance
If you need urgent medical help during your stay, contact the main desk of the hotel. The dialling code to summon emergency services is 999. If you do not have an emergency but need medical advice, dial 111 for the National Health Service advice line.

Pharmacy
The nearest pharmacy is Boots, 40-42 The Brunswick Centre, London WC1N 1AE. The local map (click on image above) shows how to find this pharmacy. It is open 8.30am to 7.30pm on weekdays, 9am to 6pm on Saturdays, 11am to 5pm on Sundays. The lookup page for local phamacies is here. Go two stops on the tube to Piccadilly Circus to get to the branch of Boots at 44-46 Regent Street, London W1B 5RA, T: 020 7734 6126, open until midnight (except Sundays 6.30pm).

Security
Wear your badge at all times. There are many other guests in the hotel, also short-term visitors to the congress, and people may walk in from the street. So be watchful for the safety of your own property, but also for that of other congress participants. Make sure never to leave your property unattended. Neither the hotel nor the congress organisers can be responsible for your personal property.

Currency Exchange
Many of London's hundreds of currency exchange kiosks offer very poor value. The currency exchange in the Royal National Hotel is especially bad. If you can, arrange to use ATMs to draw cash from your home bank account. Or use the recommended currency exchange that we'll mention in the Information Pack. The best rates are about 2 percent above or below the mid-market exchange rate (not the 10 percent charged to tourists who are not careful).

International Exlibris Auction on Friday, 14 August 2020
An auction webpage already exists as work in progress, and high-quality exlibris are being scanned and listed. You will be able to view the auction listing online later in 2019. In the meantime, we need to receive offers of good material for the auction. The guideline value for each lot is £40. Commission 15 percent. The auction will be open to people not attending the congress who register to bid in advance.

Food and Drink
Breakfast is served in the Pavilion Restaurant of the Royal National Hotel from 7am to 10am daily (but 7.30am to 10.30am on Sundays). At this hotel are also Blooms Pizza Café, open 7:30am to 11pm daily (but on Saturdays 8:30am to midnight), The Meeting Place Bar, open 12noon to 1am, and The London Pub, open 11am to midnight.
Click here for the full list of restaurants and bars in the Imperial Hotels group. Follow the links on these pages to view sample menus and to decide where you would like dinner on the Wednesday evening, then record your choice in the registration form.

In the streets around the hotel are numerous eating places, pubs and coffee shops. The Tesco Express mini-supermarket at 40 Bernard Street, WC1N 1QJ (near the Russell Square tube station) is open 24/7 for sandwiches and the many other things you may need.